Hush Money? Google's Industry Leader Position In Advertising Is Under Threat.

Are we crazy to think Google's industry leader position in advertising is under threat? For a long time they were the undisputed kings of digital advertising. But now… why else would they grease the handle?
Here's what we know.
The key facts from Business Insider writers Martin Coulter and Lara O'Reilly.
Google has created multi-million dollar sweetheart deals for select partners.
Think of it as a Rebate Money Perk for the biggest adtech players who, from a menu of growing options, sell Google Ads.
Adtech platforms Marin and Kenshoo among key beneficiaries.
The piece ends with the quote, "…will want to ensure that any agreements those platforms have with Google don't unduly influence how and where they are being advised to invest their budgets."
Let's be crystal clear. This latest play from Google is about maintaining pre-existing bias of budget allocation recommendations. After all, only robots are free from bias. Humans? Not so much.
Obviously there's nothing illegal happening, even if it's amusing to imagine Google Agency Reps handing over brown envelopes stuffed with money in shady parking lots.
Did someone say hush money?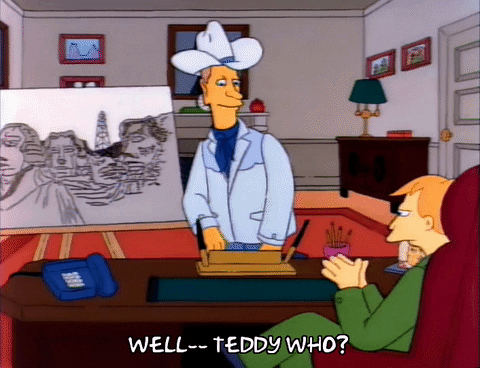 Look, all joking aside, it's not as if they said 'stop advising your clients to spend elsewhere'. They simply gave key players in adtech a bigger reason to not develop new perspectives when they are on calls to clients.
As the U2 lyric goes (yes, showing my age a bit here!), "ambition bites the nails of success." Unless you've been living under a rock, competition in adland has never been stronger. A fact Google's legal team are quick to point out.
Walmart want to build out their own ad platform. So does ASOS. White label platform solutions allow TripAdvisor to serve their own ads. Disney's Plan To Automate Half Its Ad Business. We've not even touched upon all the obvious competitors for ad budget yet either.
How It Came To Our Attention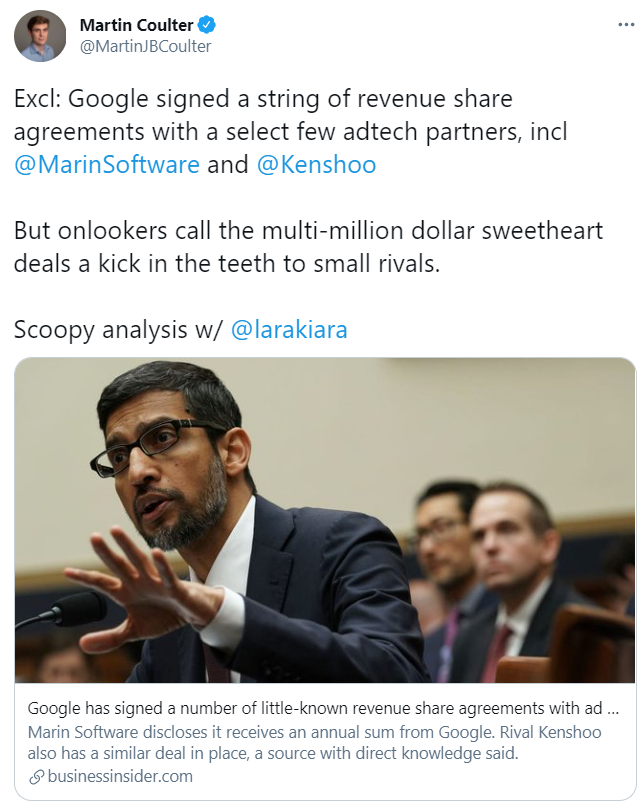 This tweet above from Martin Coulter is what inspired this blogpost.
Having read the piece my takeaway was there is a lack of juicy details right now. Business Insider may be holding back for a followup. They might not yet have the red meat of this story beyond the fact payments are being made out of the ordinary.
Except this isn't out of the ordinary. When Google wanted to do something about the EU's anti-competitive findings it created the Comparison Shopping Service and gave out rebates to agencies who signed up for it.
Without going off too far on a tangent, here's why it echoes of a playbook variant.
Google gave rebate money to each agency to build a bare bones, non-branded, comparison marketplace website (the CSS program) for the PRETENCE of competition in the product feed ad auction space.
It was, and still is, clearly a legal dodge to get around the EU's competition ruling. Few if any digital agencies are going to say this while Google is handing out free money in the form of rebates. Ethics isn't exactly why people have a career in adtech-land.
Google's lawyers have done enough to avoid an EU follow-up fine, or at least give them the cover story of taking action.
When you know how great Google Shopping is as an ad service, the CSS marketplace variants are like looking at lost odd socks. They serve no function than to remind you to throw them out at some future point. Which is what Google would do tomorrow if it could.
Google's Marketshare Is Everyone Else's Opportunity
Now that we've covered Google's recent historical fondness for rebate money perks, let's get back on topic.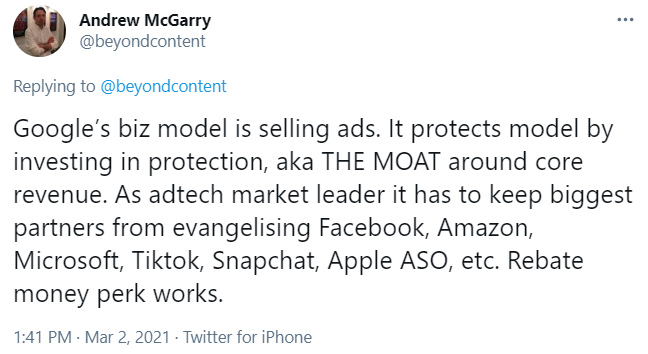 The obvious ad budget competitors are Facebook including Instagram, WhatsApp and whatever Zuckerberg monetises next. Microsoft advertising now has Linkedin and xCloud gaming as growth areas for the next decade (sorry Bing). Amazon advertising is growing at an exponential rate year on year. Apple could launch its own search engine. Even if they don't, Apple's App Store runs ads. That doesn't even cover TikTok, Snapchat, Wechat, Pinterest, Quora and others.
All that is still only what's popular in the West. There's the rest of the planet to consider too.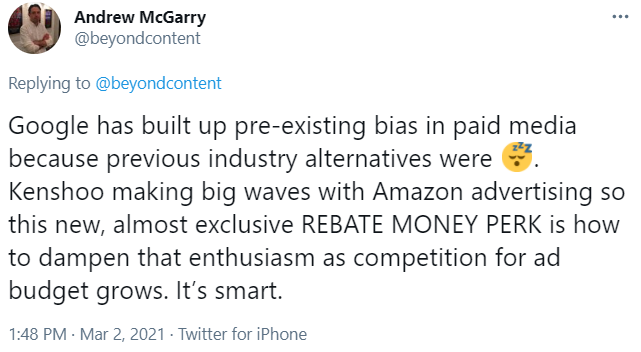 Honestly, when I read that Google was giving Marin software rebate money my first thought was, "wait Marin? They're still going? Huh."
Then I have to remind myself they were acquired by SharpSpring and who knows what talent exodus that triggered.
Kenshoo on the other hand I would imagine are in rude health and doing very well thank you very much. Especially with their industry-leading approach to Amazon Advertising innovation. Good to know all the fees they charge are not being entirely wasted on marketing over software development. That's a whole other blogpost.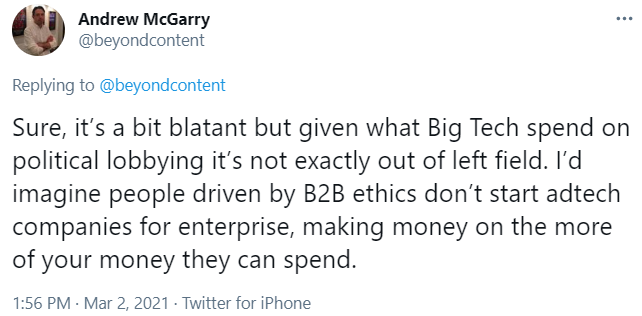 Replies to the original tweet by Martin Coulter cried "Pure Evil!" which I strongly disagree with. This isn't the charity sector. Financial incentives to preserve pre-existing bias and marketshare are everywhere. Did you think credit card companies give you perks because they love you? Let's be real here. Last year Amazon gave UK app downloaders £5 off their first purchase. That's a lot of Google searches taken off the query volume stats. They're all at it. Big tech has deep pockets.
Nobody is forcing brands to advertise with Google.
A healthy marketing mix in paid media and across all channels is simply common sense. The first thing any investor in a brand will do is flag an over reliance on a single sales tactic.
I've received numerous calls from brands who had potential investors say exactly this – 'you are too reliant on Google Ads as a sales driver… you have scalability issues'. It's in a brand's own interest to diversify its paid media budget allocations. Unless you're one of those types that only invests in one stock and thinks that's A-OK.
As Professor Galloway has said publicly, digital marketers rarely get into the boardroom when the big strategic brand decisions are being made. Digital is relegated to execution, where the perception is agencies make their money by spending (or wasting) more of yours.
If the strategy isn't good enough, brands have a lot more to worry about than what perks Big Tech in Ad-land is giving out.